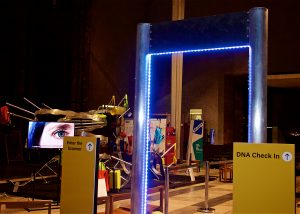 LATEST  TOURING EVENT I:DNA  – now at MILLENNIUM POINT (Level 2 Concourse), Curzon St Birmingham UK until 3rd March.
Comments from visitors:
"Amazing project-great way to convey the words and stories. "
"Loved the art installation, very poignant depiction of the weight of genetic issues."
"Wonderful! Opened my eyes to a new perspective."
STAMP – Santé Theatre And Media Productions develops new productions with academics and artists across the globe, to create new theatre and digital content.
By using primary qualitative research as a springboard for each production, we create new performance that asks questions, shares insights and encourages debate.
Based in Coventry, in the heart of England, we work with a broad range of academics and Universities worldwide. It is the synergy of our award-winning Artistic Director Claudette Bryanston, Executive Director Professor Gillian Hundt and award-winning Digital Creatives Catherine Elliott-Kemp and Ben Robinson that makes each production unique.