About the Play
Written By Mike Kenny with poetry by Julie Boden
Directed by Claudette Bryanston

Designed by Deborah Mingham
Opened at Lakeside Arts Nottingham September 30th 2015
The voices warn, 'They're coming soon. They'll come by the light of a silvery moon. Coming soon… coming soon'
Claudette Bryanston and Gillian Hundt once again team up with Olivier award-winning playwright Mike Kenny for their follow-up production to Passing On.
Cracked is funded by the Wellcome Trust, is produced by Santé Theatre Warwick, Social Sciences in Health Warwick Medical School. The play is based upon findings from the Department of Health (NIHR) funded ENRICH programme of research conducted by Professor Swaran Singh at Warwick Medical School.
Cracked is verbatim theatre interspersed with stunning poetry by poet Laureate for Birmingham Symphony Hall, Julie Boden. It explores the experiences of three young people during a first episode of psychosis. Harrowing and poignant in equal measure, this play offers a unique and refreshingly honest exploration into the fear and stigma which too often compromises seeking help.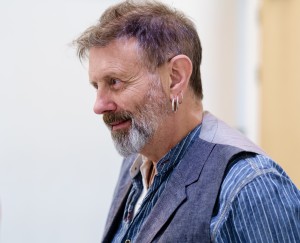 Bryanston and Kenny have created a dynamic collaboration which pushes the boundaries of verbatim text, examining one of the most disturbing struggles of what it is to be human.
A key aim is to open dialogue on mental health illness that so often affects young people.
Three powerful stories are told through their carers (parents and siblings) and performed in an evocative and stage environment designed by Deborah Mingham. Alongside the three professional actors, there will be a group of 6-12 young adults from the local community which will not only engage young people with the arts, but will also address the ignorance and misconceptions that are often associated with mental health. The entire cast (both ensemble and actors) reflect the ethnic diversity of the original study which explored cultural responses to psychosis. Santé Theatre is dedicated to involving members of the young BAME community with the arts, particularly live theatre.
Following the performance, there will be a post-show discussion with an expert panel consisting of mental health service users, psychiatrists, social scientists and theatre practitioners and with local mental health user groups and activists. (To watch this click here, or see below).
The Post-Show Panel Discussion
The Documentary